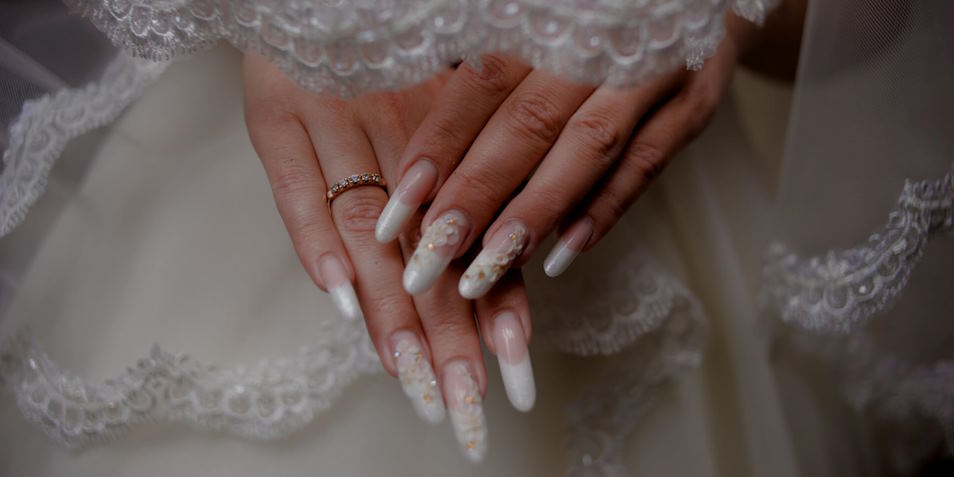 Wedding-Ready Nails: The Perfect Finishing Touch
The Importance of Well-Groomed Nails
Enhanced Elegance
Beautifully manicured nails add a touch of elegance to your overall bridal look. They complete the picture, ensuring that every element exudes grace and sophistication from head to toe.
Ring Presentation
Your hands will be the center of attention during the ring exchange ceremony. Groomed nails and a beautiful manicure will sparkle your hands and new ring even more.
Photographic Perfection
Your wedding day will be documented in countless photos. Well-maintained nails will look stunning in close-up shots and detail shots of your wedding attire.
Self-Confidence
Knowing that your nails are perfectly groomed can boost your self-confidence. You'll feel even more radiant and beautiful on your special day.
Nail Colors and Styles for Different Wedding Themes
Classic Elegance
Opt for timeless, sophisticated shades like sheer pink, nude, or soft beige. These colors are versatile and complement various dress styles. Choose a classic French manicure or a simple, clean look. It's all about understated beauty.
Vintage Charm
Go for vintage-inspired shades like muted pastels or soft lavender. These colors capture the essence of a bygone era. Consider a retro-inspired nail art design, such as lace patterns or delicate floral motifs, to match your vintage-themed wedding.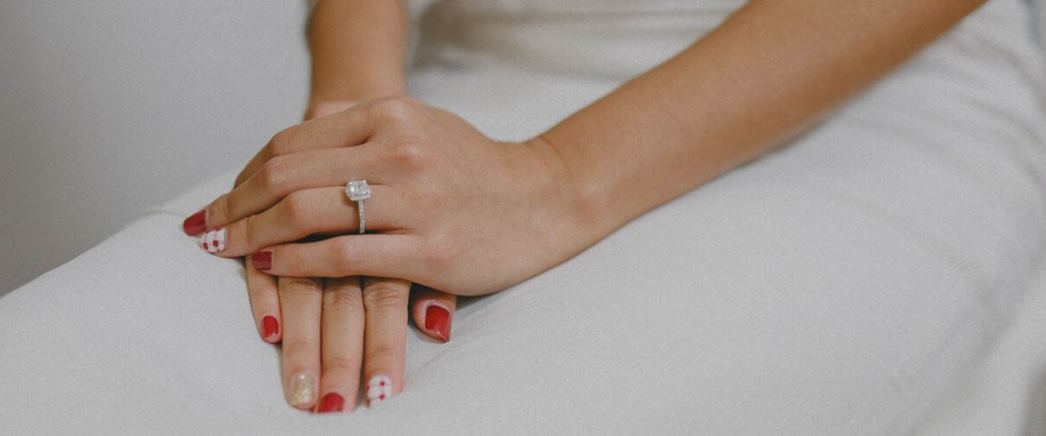 Boho Chic
Earthy tones like sage green, terracotta, or dusty rose are perfect for a boho-chic wedding. Embrace a natural and rustic look with minimalist nail art, such as a subtle ombré effect or a single accent nail with a tiny floral design.
Glamorous Affair
Glitz and glam call for metallic shades like rose gold, silver, or even a touch of glitter. Opt for dramatic and eye-catching nail art, such as sparkling embellishments or a bold, shimmering accent nail.
Beachy Paradise
Sandy beige, turquoise blue, or coral shades mirror the beach's natural beauty. Keep it relaxed with a simple solid color, or add beach-inspired nail decals for a playful touch.
Winter Wonderland
Frosty whites, icy blues, or deep burgundies capture the enchantment of winter. Add a touch of sparkle with metallic accents, snowflake designs, or a subtle shimmer finish.
Tips for a Flawless Manicure and Pedicure
Start your nail care routine well in advance to ensure your nails are in the best condition. Regular moisturizing and nail care are key.
Consider getting a professional manicure and pedicure a day or two before the wedding for impeccable results.
Keep your hands and feet hydrated in the days leading up to the wedding. Dry, cracked skin can be distracting.
If you opt for nail art or a unique style, have a trial run to ensure you love the final look.
Have a nail emergency kit on hand for quick fixes, including nail glue, a file, and a clear topcoat.